Michael Hobbs is a major character in Elf. He is Walter and Emily's son and Buddy's brother.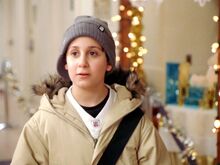 He was portrayed by Daniel Tay who would later play Doogal the dog in the us version of The Magic roundabout movie called Doogal in Elf.
and He was voiced by Max Charles who later play Harvey beaks in Elf: Buddy's Musical Christmas.
Ad blocker interference detected!
Wikia is a free-to-use site that makes money from advertising. We have a modified experience for viewers using ad blockers

Wikia is not accessible if you've made further modifications. Remove the custom ad blocker rule(s) and the page will load as expected.